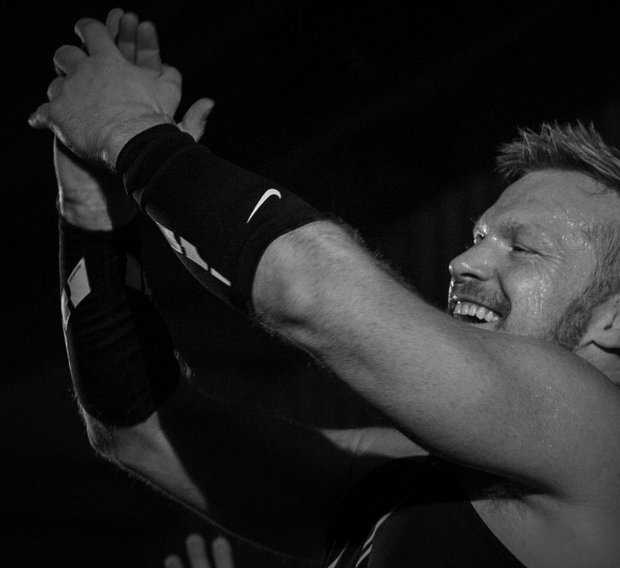 BODYART® - the extraordinary story of a training program
Told by Robert Steinbacher whose visions were the beginning:
To explain what BODYART is I have to go back to the beginning, to its origins and how it was developed. In 1993 I worked with children with special needs in the HPZ (center for curative education) near Salzburg. The major task was to teach the children how to improve the motor functions of the human body. I worked as a therapist and a carer. Although my heart has always belonged to dance I loved my years as an apprentice working with these children. At the same time, I already had some engagements as a dancer and started my career as a presenter.
The urge to move and the freedom to act it out.
It was through this experience that I found my mission: to help people to live their desire. I collected various movements, exercises and therapeutic approaches from the therapy that we had created for people with disabilities and changed, enhanced and in the end adapted them for able bodied people. A particular therapy influenced me and that was: DO IN. This is a far eastern approach to physiotherapy and a kind of pedagogy where a human is treated as a unity between muscle chains/organs on the one side and the mind/soul on the other side. When I integrated this approach with all the exercises it was like an explosion. The growth of participants got so big in such a short time, that we could not accommodate more participants. All the participants became immediately aware of one thing: The exercises are hard, but they change me. The attendees felt that the exercises demanded a lot:
Responsibility for your own body
Consistency in implementation
Concentration on the centre/core of the body
At the beginning I used a lot of equipment such as Steps, Bodybars, Tubes or Heavy Hands until I reached the conclusion that the fundamental essence of BODYART is that humans don't need any equipment to find more body awareness, they only need themselves. Many people find it easier to train with external influences such as music, screaming, repetition, choreography and group motivation. That is certainly important and as a dancer I would never refuse those elements. Equipment is necessary for Barbell training or Step training, but in these training forms the focus is on training specific muscle groups or choreography. When it comes to awareness and functional development, people need to learn to assume responsibility for their bodies again, to independently get to know themselves with the help of a trainer who will guide you or train you (that is not only true for training, but for our whole existence as human beings).
So I started to leave out all the equipment and integrated the exercises more and more in the body using balance and our own body resistance. I tried all the exercises (and no joke) with my beloved grandmother: If my granny could do it, then other grandmas and grandpas could do it as well as other adults, teenagers or children.
Another very important part of the BODYART training exercises was breathing. In this form, with its emphasis on body-mind training BODYART was born. In 1994 I started to teach classes and founded a school in Munich. At the beginning my colleagues laughed at me when I tried to introduce BODYART at conventions. In Lausanne I got kicked out of a convention with the statement, these were not the do's and don'ts in fitness. But despite that I stuck to my belief that if these exercises could help so many children with physical challenges as well as able bodied people, it would surely one day be accepted in the fitness sector.
Most of the participants at my workshops were back trainers, physiotherapists, gymnastic teachers and a few aerobic trainers. My feedback at the workshops came from Johanna Fellner who I grew up with, and who witnessed the development of all exercises and who taught my program for the first time. Johanna is also a pedagogue and that meant that we could work together to quickly improve the quality of the education and the classes. BODYART could then grow faster and achieve professional recognition. In 1998 I moved to Switzerland. I had an engagement as a dancer and trainer. There I founded a test group and in that test group was a very special person: Alexa Le.
Alexa Le is a Shiatsu professional educator, a body worker and an exceptionally gifted educator in the sector of body work and Esalen Massage. She runs courses on Esalen Massage, body work and classes in the energetic sector worldwide. Meeting Alexa was the best thing that could have happened to BODYART. Together we defined the program in a new way. Energetics, deeper breathing techniques and the knowledge about far eastern philosophy all enhanced the BODYART concept. BODYART was transformed. We studied and structured every exercise anatomically and energetically: How does an exercise need to be taught so that everybody can perform it?
That is the unique part about BODYART
Every exercise is carried out in an energetic, anatomic, muscular, organic and physiological way.
Consequently, we developed how important it was for the participants to be adjusted in every single exercise and how best to guide them in a tactile way. Thanks to Alexa's long experience in Shiatsu the result was phenomenal and the quality was exceptional: A real enrichment for BODYART. I entrusted to Alexa my concept and we founded the BODYARTschool (with a registered trade mark) in 1998, where hundreds of instructors have been educated ever since. At the beginning Alexa, Johanna and I were the only three educators. But the team has grown fast. The BODYARTschool should grow like a tree through its roots: slowly and with exceptional attention to quality. All of us passed the education for international yoga teachers to capture the spirit of the time and to develop ourselves. The origin of BODYART lies in Yoga. But the spiritual approach should stay in yoga: Yoga is an ancient philosophy, something one should live by in every part of your everyday life. It is not only a training concept. But we educated highly gifted yoga teachers as BODYART instructors to grow with them in a deeper way and to set the program free. Our Qi movements are originated from Tai Chi and Qi Gong teachers, who are also Shiatsu educators.
So the quality of BODYART can be understood only through an understanding of the roots and it should never be interpreted. One of the BODYART principles is to never judge between good and bad movements, because what is good for one person can be bad for the other. BODYART means freedom for every participant on a personal level.
To ensure our growth we handed over the management of the BODYARTschool to Brigitte Saller so we could keep our heads clear to take care of the hundreds of BODYART Instructors and to continue to develop the BODYART concept and create new visions. That is close to our and especially to my heart. Because BODYART is the freedom or every individual to train for him or herself personally.
Our team has grown and all educators and assistants in the BODYARTschool share one thing besides well-grounded knowledge: they are all wonderfully human, they have a history and in addition to their professionalism and experience have grown with BODYART. Every educator lives BODYART and teaches BODYART with conviction. I, Robert Steinbacher, am very proud to move so many people, to help them find an awareness for their own body and to create a basis for health and well-being. We created something really precious. At the beginning it was my philosophy and the belief in something huge. Thanks to wonderful people like Johanna, Alexa and now Brigitte I was able to develop my ideas and work together to help all the instructors grow and to build more awareness of BODYART. That is my motivation, my joy and my reward for my daily business.
BODYART® – the positive message