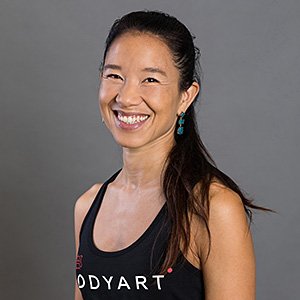 Alexa Lê
Schweiz
Co-Creator BODYART Trainings Concept
CEO BODYART Global GmbH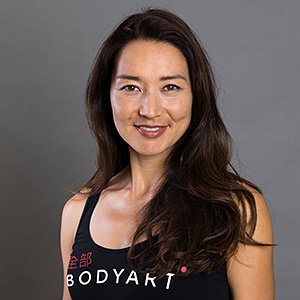 Andrea Heinemann
Schweiz
BODYART International Master Trainer
Andrea Heinemann
"Welchen Weg auch immer du wählst, gehe ihn mit Hingabe und Leidenschaft" – dieser Leitlinie ist Andrea stets gefolgt.
Andrea ist diplomierte Instruktorin (2009), Presenterin (2010) und internationale Ausbilderin (2011) für BODYART® sowie diplomierte internationale Yoga-Lehrerin RYT ® (2012).
Basis ihrer sportlichen Tätigkeit bildet ihre langjährige klassische Ballett- und Tanzausbildung ab dem 4. Lebensjahr. Nach der Entscheidung gegen eine Tanzlaufbahn zugunsten eines Architekturstudiums ließ sie sich zur Instruktorin für verschiedene Group Fitness Konzepte ausbilden und unterrichtete diese mehrere Jahre studienbegleitend.
Durch ihre hauptberufliche Tätigkeit als selbständige Architektin mit eigenem Architekturbüro in Zürich kennt sie aus eigener Erfahrung das allgegenwärtige dringende Bedürfnis in der heutigen Zeit nach Abbau von Stress und Austreten aus dem vereinnahmenden Alltagsdruck. Den Kopf durchlüften, aus permanenten Fehlhaltungen resultierenden Schmerzen entgegenwirken, durch innere Stärke Leichtigkeit in Gedanken und Alltag bringen und nicht zuletzt die Freude am Bewegen wiederentdecken. Für dies und vieles mehr hat sie für sich selbst den Schlüssel in BODYART®, Yoga, Meditation und dem Studium fernöstlicher und westlicher Disziplinen und Praktiken gefunden. Seit Januar 2019 studiert Andrea berufsbegleitend Akupunktur und TCM.
Die Vertiefung in ein Thema öffnet zumeist neue und unerwartete Türen, durch die Andrea mit Vorliebe geht, um den Blick zu weiten und stetig dazuzulernen.
Mit Hingabe, Leidenschaft und viel Freude teilt sie in ihren Lektionen ihre Erfahrungen mit ihren Teilnehmern.
"Whatever path you choose, follow it with dedication and passion" - Andrea has always followed this guideline.
Andrea is a certified instructor (2009), presenter (2010) and international trainer (2011) for BODYART® as well as a certified international yoga teacher RYT ® (2012).
The basis of her sporting activity is her many years of classical ballet and dance training from the age of 4. After deciding against a dance career in favor of studying architecture, she trained as an instructor for various group fitness concepts and taught them for several years while studying.
Through her full-time work as an independent architect with her own architectural office in Zurich, she knows from her own experience the ever-present urgent need in today's world for the reduction of stress and the escape from the everyday pressure. Ventilate your head, counteract pain resulting from permanent incorrect posture, bring lightness to your thoughts and everyday life through inner strength and, last but not least, rediscover the joy of moving. For this and much more, she has found the key for herself in BODYART®, yoga, meditation and the study of Far Eastern and Western disciplines and practices. Andrea has been studying acupuncture and TCM part-time since January 2019.
The deepening into a topic mostly opens new and unexpected doors, through which Andrea prefers to go in order to widen and constantly learn.
With dedication, passion and a lot of joy she shares her experiences with her participants in her lessons.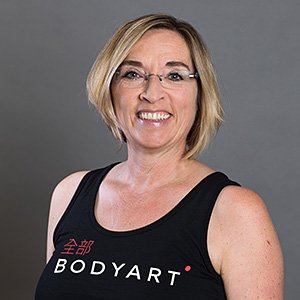 Anja Reutemann
Deutschland
BODYART School Office Team
Manager BODYART Office Department
Management Assistant of the BODYART School
BODYART Customer Service
Anja Reutemann
"Für mich sind perfektes Organisieren und Arbeiten im Team nicht einfach nur Worte!" Anja ist seit 2011 im Team der BODYART School und betreut den Bereich Customer Services. Mit viel Engagement, Herzblut und Leidenschaft unterstützt sie die Geschäftsleitung sowie das BODYART Trainer Team. Als ausgebildete Fremdsprachensekretärin sammelte sie bei mehreren internationalen Unternehmen als Assistentin wichtige Erfahrungen. Tatkräftig und engagiert arbeitet sie im Back Office und ist zentrale Ansprechpartnerin für Kunden und das BODYART Team. Sie liebt es im Team zu arbeiten, mit Kunden und Trainern zu kommunizieren, Events zu organisieren und "Schaltzentrale" der BODYART School zu sein.
"For me, perfect organisation and working in a team are not just buzzwords!" Anja has been part of the BODYART School team since 2011 and is responsible for the Customer Services department. She supports the management and the BODYART trainer team with a lot of energy, commitment, and passion. As a trained foreign language secretary, she gained important experience as an assistant at several international companies. She is active and committed in the back office and is the central contact for customers and the BODYART team. She loves working in a team, communicating with customers and trainers, organising events and being the "control center" of the BODYART School.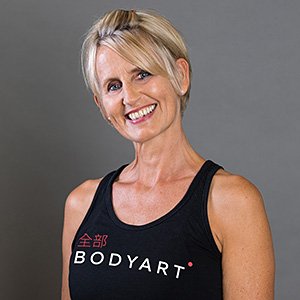 Astrid Engelbrecht
Deutschland
BODYART International Master Trainer
Astrid Engelbrecht
Als promovierte Sport- und Kommunikationswissenschaftlerin und ehemals freie Journalistin unterrichtet Dr. Astrid Engelbrecht seit über 20 Jahren mit Begeisterung und einer deutlichen Botschaft alle Disziplinen der Gruppenfitness:
"Durch unsere äußere Haltung haben wir die großartige Gelegenheit unsere innere Haltung zu kultivieren und wachsen zu lassen."
Diese Verbindung von Körperarbeit und geistiger Stabilität steht im Vordergrund ihres Arbeitens. Der aktuelle Slogan ihres Zentrums für Prävention, B O D Y A R T®, Yoga und Pilates auf einem alten niedersächsischen Bauernhof (10DZ), dem Sporthof Schöne Aussicht - "Stay Juicy" - steht für neuste Forschungsansätze der Trainingslehre. Seit 17 Jahren setzt sie Erfahrungen und Erkenntnisse aus dem Pilates, dem Hatha Yoga und B O D Y A R T® in Seminaren und Workshops in Bezug zu yogatherapeutischen und philosophischen Grundsätzen. Ihr eigenes Trainingskonzept GEH 3D verbindet dreidimensionale Bewegungen mit Stimme und Soul und einem fundierten Wissen um die Trainierbarkeit des Körpers aufgrund von Nervenimpulsen und "Nahrung".
Mit Kreativität und Spürsinn für den aktuellen Zeitgeist gelingt es Astrid die Idee einer Verbindung von Kommunikation und mentaler Fitness, den Gedanken von Körper, Geist Gemeinschaft und interdisziplinärer Vernetzung in speziellen Seminaren zu verwirklichen. Weitere Schwerpunkte: Organisation von Seminaren, Fortbildungen, Specials. Wiederkehrende Veranstaltungen: Hormonyoga, Yogakongresse, Sei nicht Sauer Kuren, B O D Y A R T Events. Astrid unterrichtet als Mastertrainerin seit 2015 die B O D Y A R T Basic Ausbildung in Norddeutschland.
Mehr Infos:
www.schoene-aussicht-lindwedel.de
As a doctor of sports and communication science and former freelance journalist, Dr. Astrid Engelbrecht for over 20 years with enthusiasm and a clear message all disciplines of group fitness:
"With our outer attitude we have the great opportunity to cultivate and grow our inner attitude."
This connection between bodywork and mental stability is at the forefront of her work. The current slogan of her Center for Prevention, B O D Y A R T®, Yoga and Pilates on an old farm in Lower Saxony (10DZ), the Sporthof Schöne Aussicht - "Stay Juicy" - stands for the latest research approaches in training theory. For 17 years she has been using experience and knowledge from Pilates, Hatha Yoga and B O D Y A R T® in seminars and workshops in relation to yoga therapeutic and philosophical principles. Your own training concept GEH 3D combines three-dimensional movements with voice and soul and a sound knowledge of the trainability of the body due to nerve impulses and "food".
With creativity and flair for the current zeitgeist, Astrid succeeds in the idea of ​​combining communication and mental fitness, the ideas of body, mind, community and interdisciplinary networking in special seminars. Other focus: organization of seminars, advanced training, specials. Recurring events: hormone yoga, yoga congresses, do not be acidic cures, B O D Y A R T events. Astrid has been teaching the B O D Y A R T basic training in northern Germany since 2015 as a master trainer.
More information: www.schoene-aussicht-lindwedel.de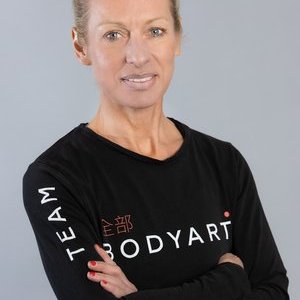 Carina Mago
Deutschland
BODYART International Master Trainer
Carina Mago
Carina ist in München geboren und lebt dort in der Nähe mit ihrem Sohn.
Die Rastlosigkeit verdankt sie nicht nur ihrem Sternzeichen, sondern auch ihrem Job als Flugbegleiterin, den sie seit über 18 Jahren bei einer großen deutschen Airline ausführt.
Sportlich gesehen war Carina stets ein Allroundtalent. Vom Fechten, Leichtathletik, Handball, bis hin zum Tennis war sie ohne Leistungsdruck mit Spaß an der Freude dabei.
1998 hat sie ihre Group Fitness-Karriere mit der Teilnahme an der B- Lizenz bei Safs & Beta begonnen. Es folgten viele weitere Fortbildungen zum Personaltrainer, Schwinn Cycling Instruktor, Yogalehrer uvm.
Über die DEEPWORK Ausbildung lernte sie 2013 das BODYART Training kennen und war sofort von dem Konzept fasziniert wenn nicht sogar verliebt. Als sie dann Robert bei einem Event persönlich kennenlernte, hatte sie sogleich das Gefühl, das ist das Richtige für mich. Die undogmatische und radikal, ehrliche Herangehensweise von Robert & seinem Team hatte sie sofort überzeugt! Zielstrebig, aber stets mit Ruhe ging sie ihren BODYART Weg und wurde letztlich 2018 von Robert selbst zum BODYART Mastertrainer ernannt. Seitdem ist für die BODYART School als Ausbilderin und Presenterin unterwegs.
Des Weiteren unterrichtet Carina in vielen namhaften Fitness Studios in München. Selbst ihr großes Hobby das Reisen, verbindet sie ab Juni 2020 mit ihrer Tätigkeit als Mastertrainerin und Markenbotschafterin, in dem sie als Expertin von diversen Robinson Clubs eingeladen wurde um BODYART als Event Woche zu präsentieren.
Carina is born in Munich and lives nearby with her son.
She owes her restlessness not only to her zodiac sign, but also to her job as a flight attendant, which she has been carrying out with a major German airline for over 18 years.
From a sporting point of view, Carina was always an all-round talent. From fencing, athletics, handball, to tennis, she was there without any pressure to perform and enjoyed the joy.
In 1998 she started her group fitness career by participating in the B license at Safs & Beta. This was followed by many further training courses as a personal trainer, Schwinn cycling instructor, yoga teacher and much more.
In 2013 she got to know the BODYART training through the DEEPWORK training and was immediately fascinated if not in love with the concept. When she met Robert personally at an event, she immediately felt that this was the right thing for me. The undogmatic and radical, honest approach of Robert & his team immediately convinced them! Determined, but always calm, she went her BODYART path and was ultimately appointed Robert BODYART master trainer in 2018. Since then she has been working as a trainer and presenter for the BODYART School.
Carina also teaches in many well-known fitness studios in Munich. Even her big hobby of traveling connects her from June 2020 with her work as a master trainer and brand ambassador, in which she was invited as an expert by various Robinson clubs to present BODYART as an event week.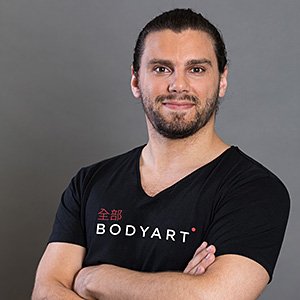 Christian Urban
Österreich
BODYART International Master Trainer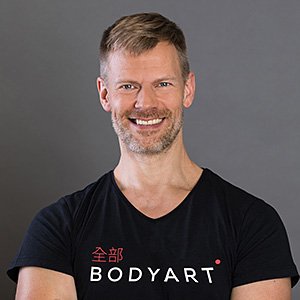 Christian Gasch
Deutschland
Managing Director of the BODYART School Int. GmbH
BODYART International Master Trainer
Manager BODYART & DEEPWORK Academy
Christian Gasch
Christian ist am 02. Dezember in Bad Reichenhall geboren, wo er auch heute noch wohnt und sein privates Leben mit seinem Partner Torsten in vollen Zügen genießt. Die Verbundenheit zu seiner Heimatstadt ist ihm gerade als Rückzugsort sehr wichtig und er gestaltet dort das bisschen Freizeit mit wandern in den Bergen, Sonnenbaden am See bzw. Stand Up Paddling auf dem See, Wellness in div. Thermen, Spaziergängen durch das benachbarte Salzburg, Freunde treffen, Kinobesuchen oder einfach damit, gemütlich zu Hause auf dem Sofa zu relaxen.
In seiner frühen Kindheit begann Christian mit dem Tanzen und schnell war klar, dass ihn diese Leidenschaft ein Leben lang begleiten soll. Aufgrund einer Knieverletzung war es ihm nicht möglich, den Beruf als Tänzer auszuüben, hat aber als Fitness Professional eine für ihn sehr gute Alternative gefunden. Den Grundstein dafür legte er 1998 mit der Ausbildung zum Group Fitness Trainer (Aerobic Trainer B- und A- Lizenz) und absolvierte seitdem zahlreiche Aus- sowie Fortbildungen im Fitness- und Gesundheitsbereich (Pilates Trainer, Yoga Trainer, Basic Trainer der Spiraldynamik usw.). Letztendlich verlor er sein berufliches Herz an BODYART und deepWORK, als er 2012 bzw. 2015 jeweils zum Mastertrainer ernannt wurde. Diese Herzensangelegenheit ging so weit, dass er seit 2019 der neue Geschäftsführer sowie Teilhaber der BODYART School International GmbH ist und diese Aufgabe zusammen mit seinem Office Team mit viel Energie, Emotion und Spaß bewältigt.
Sein Motto: "Nur wer sich selbst liebt, kann auch andere lieben", erinnert ihn jeden Tag daran, wie schön das Leben ist 😊
Christian was born on December 2nd in Bad Reichenhall, where he still lives today and enjoys his private life to the fullest with his partner Torsten. The connection to his hometown is very important to him as a place of retreat and in his free time he enjoys hiking in the mountains, sunbathing or stand-up paddling at the lake, wellness in various thermal baths, walks through neighboring Salzburg, meeting friends, going to the cinema or just relaxing at home on the sofa J.
Christian started dancing in his early childhood and it quickly became clear that this passion would accompany him for a lifetime. Due to a knee injury, he was not able to perform as a dancer, but as a fitness professional he found a very good alternative. He laid the foundation for this in 1998 with his training as a group fitness trainer (aerobic trainer B and A license) and has since completed numerous educations and workshops in the fitness and health sector (Pilates trainer, Yoga trainer, basic trainer of Spiral Dynamics, etc.) . Ultimately, he lost his professional heart to BODYART and deepWORK when he was appointed Master Trainer in 2012 and 2015, respectively. This matter of the heart went so far that in 2019 he was appointed as the new Managing Director and Partner of BODYART School International GmbH and manages this task with a lot of passion, energy and fun together with his office team.
His motto: "Only those who love themselves can love others," reminds him every day of how beautiful life is 😊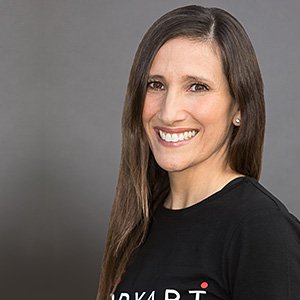 Daniela Pignata Mantziaris
Deutschland
BODYART Global Master Trainer
Daniela Pignata Mantziaris
Schon als Kind zogen mich Musik und Tanz magisch an und ich begann mit Jazz Dance und et-was später mit klassischem Ballett. Als Teenie dann das Aus: ich bekam Tanzverbot und kam nur dank meiner Physiotherapeutin und täglichem Training um eine Operation herum.
Jahre später ging ich in ein Fitness Studio zum Gerätetraining und irgendwann klebte ich dort nur noch an der Glastür zum Aerobic-Raum. So kam ich doch wieder zurück zu dem, was mir Spaß machte und irgendwann wurde ich auf einen Wettkampf und etwas später dann in die Trainer-Ausbildung geschickt.
Dies war mein großes Glück, denn so konnte ich eine weitere Leidenschaft entdecken:
mit Menschen zu arbeiten, sie zu unterrichten, einen Ausgleich zum Alltagsstress zu bieten, funktionell an korrekter Haltung zu arbeiten, sie in ihrer Ausführung weiterzubringen, sie zu schulen, auszubilden und zu unterstützen – fachlich sowie persönlich.
Meine Schwerpunkte haben sich im Laufe der Jahre auf BODYART, Yoga, Pilates und Entspannung verlagert. Body & Mind Kurse sind für mich jetzt die schönste und intensivste Art Menschen zu unterrichten und mit ihnen zu arbeiten.
BODYART ist für mich ein so wunderbares Programm, weil ich alles, worauf ich besonders viel Wert lege, hier vermitteln kann und die Teilnehmer ganz funktionell trainieren kann, sie aber gleichzeitig so viele Benefits mitnehmen und auch im Alltag davon profitieren können.
Das schönste Dankeschön für mich ist ein glückliches Lächeln.
Music and dance attracted me as a child, and I started with jazz dance and a little later with classical ballet. Then as a teen the end: I was banned from dancing and only got around an operation thanks to my physiotherapist and daily training.
Years later I went to a fitness studio for equipment training and at some point, I just stuck to the glass door to the aerobics room. So I came back to what I enjoyed and at some point I was sent to a competition and then a little later to train as a trainer.
This was my great luck, because I could discover another passion:
to work with people, to teach them, to compensate for everyday stress, to work functionally on correct posture, to advance their execution, to train, train and support them - professionally and personally.
My focus has shifted over the years to BODYART, Yoga, Pilates and relaxation. Body & Mind courses are now the most beautiful and intensive way for me to teach and work with people.
BODYART is such a wonderful program for me because I can convey everything that I attach great importance to and can train the participants functionally, but at the same time they can take so many benefits and benefit from them in everyday life.
The best thank you for me is a happy smile.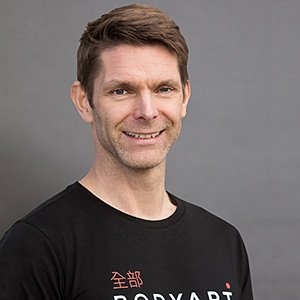 Fabian Allmacher
Deutschland
BODYART Global Master Trainer
DEEPWORK International Master Trainer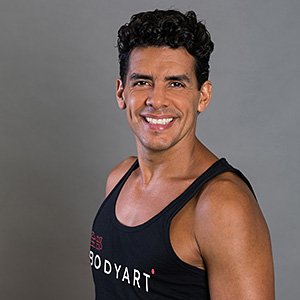 Ivam da Silva
Deutschland
BODYART Master Trainer
Trainee WARRIOR V Master Trainer
Ivam da Silva
Ivam Vaz da Silva ist 1977 in Brasilien geboren und entdeckte in dieser Kultur schon als Kind die dort weit verbreiteten Tanzstile Lambada, Samba und Capoeira als seine große Leidenschaft.
Als Jugendlicher wurde sein Interesse an der Aerobic-Szene geweckt, inspiriert von seinem älteren Bruder Iram Vaz, der regelmäßig an verschiedenen Aerobic-Meisterschaften teilnahm.
Als Ivam alt genug war, stieg er in die neue Generation der Fitness-Branche ein und unterrichtete in unterschiedlichen Fitness-Studios. Er war zuständig für das Unterrichten der neuesten Kurse im Fitnessbereich und setzte die aktuellen Trends unmittelbar um.
Seit 2004 lebt Ivam Vaz da Silva mit seiner Familie in Deutschland und begeistert auch hier die Aerobic- und Fitness-Szene. Neben der Arbeit in unterschiedlichen Fitness-Studios ist Ivam auf verschiedenen Aerobic-Conventions auf der Bühne zu sehen.
Im Jahr 2011 ist er zum "Besten IFAA Master Instructor" ausgezeichnet worden. Seitdem ist er im Team der IFAA und für diese auch als Ausbilder tätig. Seit einigen Jahren steht er bereits als Presenter für BODYART auf der Bühne und ist seit 2020 ebenfalls fester Bestandteil im BODYART Ausbilderteam.
Lateinamerikanische Rhythmen und brasilianisches Flair machen Ivams Kurse einfach unverwechselbar. Mit seiner südländischen, lockeren Art und seinem Charme begeistert er auch international die Aerobic- und Fitnessszene.
Sein persönliches Motto lautet: Alles ist besser, wenn du dabei tanzt!
Ivam Vaz da Silva was born in Brazil in 1977 and, as a child, discovered the widespread dance styles Lambada, Samba and Capoeira in his culture as his great passion.
As a teenager, he became interested in the aerobic scene, inspired by his older brother Iram Vaz, who regularly participated in various aerobic championships.
When Ivam was old enough, he entered the new generation of the fitness industry and taught in different fitness studios. He was responsible for teaching the latest courses in the fitness area and immediately implemented the current trends.
Ivam Vaz da Silva has lived in Germany with his family since 2004 and is also enthusiastic about the aerobic and fitness scene. In addition to working in different fitness studios, Ivam can be seen on stage at various aerobic conventions.
In 2011 he was awarded the "Best IFAA Master Instructor". Since then he has been part of the IFAA team and has also worked as an instructor for them. He has been on stage as a presenter for BODYART for several years and has also been an integral part of the BODYART trainer team since 2020.
Latin American rhythms and Brazilian flair make Ivam's courses unmistakable. With his Mediterranean, relaxed manner and his charm, he also excites the aerobic and fitness scene internationally.
His personal motto is: Everything is better if you dance!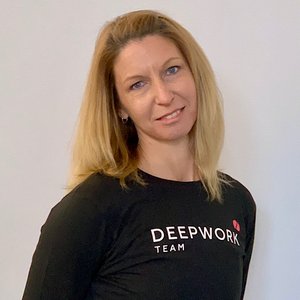 Jacqueline Schoppelt
Österreich
DEEPWORK International Master Trainer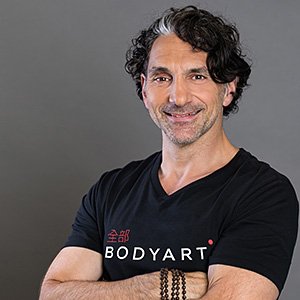 Janni Giannikakis
Deutschland
BODYART Global Master Trainer
Manager and Educator of the Health Academy
Janni Giannikakis
Fußball als Leistungssport – das war seine Leidenschaft. Die Erfahrung, durch Optimierung von Stärken und Minimierung von Schwächen seine Leistung steigern zu können, prägte sein Sportlerleben.
Jahre des Trainings und unterschiedliche Ausbildungen vermittelten ihm die entscheidenden Vorteile des funktionellen Krafttrainings und der positiven Einstellung.
Durch BODYART lernte er die Bedeutung der Verbindung von Kraft und Flexibilität zu schätzen. Das bewusste, gezielte Ansteuern des Körpers eröffnet größere Möglichkeiten, sich bewusst in seinem Sport weiterzuentwickeln. Diesem Ziel hat er sich als Personal Trainer verschrieben. Ob im Leistungs-, Gesundheits- oder Freizeitsport, die Ganzheitlichkeit des Köpers und seine Weiterentwicklung steht für ihn im Vordergrund.
Janni ist seit mehr als 25 Jahren im Fitnessbereich als Bewegungstherapeut, Gesundheitsberater, Personal Trainer, lizensierter Fitnesstrainer, BODYART Global Master Trainer, Verfasser und Ausbilder für verschiedene Bewegungs- und Therapiekonzepte tätig.
Seit 2019 leitet er die Health Academy der BODYART School mit den sehr erfolgreichen Workshops und Ausbildungen wie z.B. Holistic Personal Trainer and Coach, BURN-OUT Prävention, Mobility Training usw.
Football as a competitive sport - that was his passion. The experience of being able to improve his performance by optimising strengths and minimising weaknesses shaped his life as an athlete.
Years of training and different educations taught him the decisive advantages of functional strength training and positive attitude.
Through BODYART he learned to appreciate the importance of combining strength and flexibility. The conscious, targeted targeting of the body opens up greater opportunities to consciously develop in his sport.
He has dedicated himself to this goal as a personal trainer. Whether in competitive, health or recreational sports, the holistic nature of the body and its further development is his main focus.
Janni has been active in the fitness sector for more than 25 years as an exercise therapist, health consultant, personal trainer, licensed fitness trainer, BODYART Global Master Trainer, author and instructor for various exercise and therapy concepts.
Since 2019 he has been leading the Health Academy of the BODYART School with the very successful workshops and trainings such as Holistic Personal Trainer and Coach, BURN-OUT Prevention, Mobility Training etc.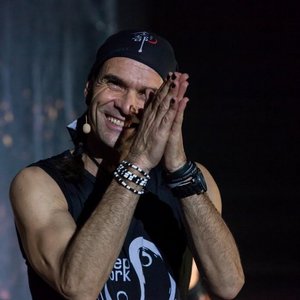 Jannie Lindeque
México
BODYART & DEEPWORK Global Master Trainer
Manager DEEPWORK Academy
Jannie Lindeque
In meiner ursprünglichen Heimat in Südafrika begann meine Leidenschaft für Fitness und Aerobic eigentlich durch einen Zufall und jugendlichem Leichtsinn. Obwohl meine Eltern bereits in der Fitnessbranche tätig waren, hatte ich bis zu diesem Zeitpunkt keinen echten Gedanken daran verschwendet in dieses Metier einzusteigen. Erst die Wette mit einem Freund, die um die Ausbildung zum Step-Instruktor ging, ließ mich erkennen, was ich bis zu diesem Zeitpunkt versäumt hatte. Nach erfolgreichem Abschluss zum Aerobic- und Step-Trainer im Jahr 1993 in Bloemfontain (Südafrika) wurde ich auch prompt vom Fleck weg für einen Step-Workshop engagiert.
Die Entwicklung ging weiter und von 1994 – 2002 war ich nicht nur als Aerobic-Manager für viele verschiedene Fitnessketten (u.a. Virgin Active) tätig, sondern konnte mir auch als Personal Trainer einen Namen machen. Dies führte letztlich dazu, dass ich als Aerobic- und Step-Ausbilder bei der BodyLine Fitness Foundation und bei der Reebok University als Reebok Master Trainer unter Vertrag genommen wurde. Zahlreiche weiterer Schulungen z.B. im Bereich Martial-Arts und Indoor-Cycling machten mich schließlich zum nationalen Presenter und ich hatte zahlreiche Engagements für Workshops, Conventions und Events in der ganzen Republik Südafrika.
Im Jahr 1999 wurde ich zum ersten Mal eingeladen auch in Europa bei einem IFAA-Kongress als internationaler Presenter meine Fähigkeiten unter Beweis zu stellen. Und noch im gleichen Jahr bei einem weiteren Kongress der IFAA wurde ich zu meiner Überraschung gleich zum "Best International Newcomer" gekürt
Nun war es für mich eine beschlossene Sache und mein Umzug nach Deutschland erfolgt 2002. In Deutschland wurde mir neben einer Trainertätigkeit sofort die Kurskoordination in zwei großen Studios angeboten. Als internationaler Presenter, Ausbilder und Coach bin ich seitdem europaweit unterwegs.
In meiner Ausbildertätigkeit für die IFAA (Internationale Fitness und Aerobic Akademie) unterrichte ich Aerobic und Step, Kettlebell und Speedball.
2008 konnte ich meine reichen Erfahrungen und mein Wissen in das Trainingskonzept von Soccacise einbringen und seitdem bin ich auch in diesem Bereich Ausbilder.
Mein Weg zu BODYART führte über eine Einladung von Robert Steinbacher während eines Kongresses. Für mich war es eine absolut neue Erfahrung mich mit einem Body & Mind Konzept auseinander zu setzen, da ich bis dahin solche Kurse immer gemieden hatte. Aber zu meiner großen Überraschung überzeugte mich dieses Konzept komplett, so dass inzwischen meine wöchentlichen BODYART-Lektionen zu meinen persönlichen Highlights zählen. Seitdem lebe mit BODYART und nur wenn man dieses Konzept lebt, kann man es mit Überzeugung auch vermitteln.
Seit 2011 wurde ich ins Ausbilder-Team berufen und ich freue mich sehr darauf meine Begeisterung an alle weiterzugeben, die BODYART kennenlernen möchten.
In my original home in South Africa, my passion for fitness and aerobics started with a coincidence and youthful recklessness. Even though my parents were already working in the fitness industry, I hadn't really given any thought to getting into this profession until then. It was only when I bet with a friend about training to become a step instructor that I realized what I had been missing until then. After successfully completing my aerobics and step trainer in 1993 in Bloemfontain (South Africa), I was promptly hired for a step workshop.
The development continued and from 1994 to 2002 I not only worked as an aerobics manager for many different fitness chains (including Virgin Active), but also as a personal trainer. This ultimately led to me being signed on as an aerobics and step instructor at the BodyLine Fitness Foundation and at Reebok University as a Reebok Master Trainer. Numerous other training courses e.g. In the field of martial arts and indoor cycling, I finally became a national presenter and I had numerous commitments for workshops, conventions and events throughout the Republic of South Africa.
In 1999 I was invited for the first time to demonstrate my skills as an international presenter at an IFAA congress in Europe. And in the same year at another IFAA congress, I was surprised to be named "Best International Newcomer"
Now it was a decision for me, and I moved to Germany in 2002. In Germany I was immediately offered course coordination in two large studios in addition to working as a trainer. Since then I have been traveling across Europe as an international presenter, trainer and coach.
In my training for the IFAA (International Fitness and Aerobic Academy) I teach aerobics and step, kettlebell and speedball.
In 2008 I was able to bring my rich experience and knowledge into the Soccacise training concept and since then I have also been an instructor in this area.
My path to BODYART was via an invitation from Robert Steinbacher during a congress. For me it was a new experience to deal with a Body & Mind concept, because I had always avoided such courses. But to my great surprise, this concept completely convinced me, so that my weekly BODYART lessons are now my personal highlights. Since then live with BODYART and only if you live this concept can you convey it with conviction.
I have been a member of the instructor team since 2011 and I am really looking forward to sharing my enthusiasm with everyone who wants to get to know BODYART.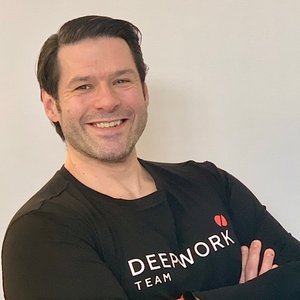 Jens Roth
Deutschland
DEEPWORK International Master Trainer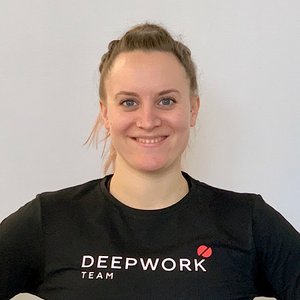 Julcsi Kruzslicz
Deutschland
DEEPWORK International Master Trainer
Trainee BODYART International Master Trainer
WARRIOR V Master Trainer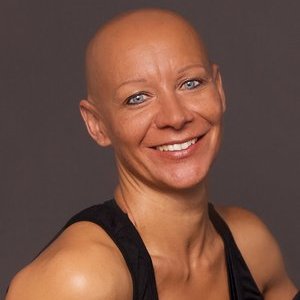 Julia Przybilka
Costa Rica
BODYART Global Master Trainer
BODYART Americas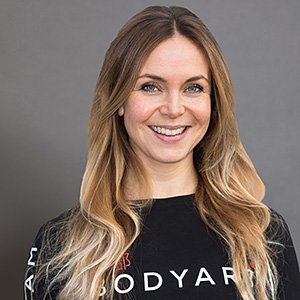 Katharina Knittel
Deutschland
BODYART International Master Trainer
DEEPWORK International Master Trainer
Katharina Knittel
Für Katharina ist Tanz und Bewegung seit ihrer frühesten Kindheit fester Bestandteil ihres Lebens. Mit 6 Jahren begann sie mit Ballettunterricht und fand mit 16 Jahren ihre Passion im Zeitgenössischen Tanz. Den Traumberuf "Tänzerin" konnte sie leider nicht verwirklichen, blieb ihrem Bewegungsdrang dennoch treu und studierte Sportwissenschaften mit dem Schwerpunkt Spiel -Musik-Tanz und Fitness-Gymnastik an der Deutschen Sporthochschule Köln. Seit über zehn Jahren ist die leidenschaftliche Tänzerin als Kursleiterin, Personaltrainerin und Referentin im Bereich Fitness, Gesundheit und Rehabilitation tätig. Ihre Schwerpunkte liegen in der Schulung der Körperwahrnehmung und dem Training mit dem eigenen Körpergewicht. 2008 lernte sie auf einer Convention Robert Steinbacher und sein Konzept BODYART kennen. Diese Begegnung veränderte ihr Leben nachhaltig. Sie absolvierte die BODYART Ausbildung mit der Vision, irgendwann einmal BODYART Mastertrainerin zu werden. Auf Ihrem Weg dorthin bildete sie mehrere Jahre deepWORK und andere körperorientierte Konzepte aus und 2017 verwirklichte sich ihr Traum und sie wurde ins BODYART Ausbilderteam aufgenommen. Dem ständigen Wissensdurst folgend arbeitete sie 3,5 Jahre mit orthopädischen Patienten im Sport und Reha Bereich der Betaklinik in Bonn. In Zukunft unterrichtet Katharina in der universitären Lehre Gymnastik am Institut für Tanz- und Bewegungskultur der Deutschen Sporthochschule Köln und wird sich als wissenschaftliche Mitarbeiterin der IST Hochschule in Düsseldorf noch mehr der Forschung widmen, um Bewegung und das positive Wirken auf die Gesundheit noch besser zu verstehen.
Sie liebt es, ihre Leidenschaft für Bewegung und Kreativität in ihren BODYART Stunden und Ausbildungen weiterzugeben und trotz aller Strenge für Präzision und Technik lässt sie den liebevollen Umgang mit sich und dem eigenen Körper nie außer Acht. BODYART - deepWORK und WARRIOR V sind für Katharina Bewegungskonzepte, mit denen sie sich identifizieren kann und die ihren Teilnehmern und sich selbst Raum zum Durchatmen, Loslassen sowie "dem Finden innerer Ruhe" geben.
For Katharina, dance and movement have been an integral part of her life since childhood. At the age of 6 she started ballet lessons and at 16 she found her passion in contemporary dance. Unfortunately, she was unable to achieve her "dream job as a dancer" but remained true to her urge to move and studied sports science with a focus on game, music, dance and fitness gymnastics at the German Sport University in Cologne. The passionate dancer has been working as a course instructor, personal trainer and speaker in the field of fitness, health and rehabilitation for over ten years. Her focus is on training body awareness and training with your own body weight. In 2008 she met Robert Steinbacher and his concept BODYART at a convention. This encounter changed her life forever. she is completing the BODYART training with the vision of becoming a BODYART master trainer at some point. On their way there, deepWORK and other body-oriented concepts trained for several years and in 2017 their dream came true and was accepted into the BODYART trainer team. Following the constant thirst for knowledge, she worked for 3.5 years with orthopedic patients in the sports and rehabilitation area of ​​the beta clinic in Bonn. In the future, Katharina will teach gymnastics at the Institute for Dance and Movement Culture at the German Sport University in Cologne and, as a research assistant at the IST University in Düsseldorf, will devote even more research to better understand movement and the positive impact on health .
She loves to pass on her passion for movement and creativity in her BODYART lessons and training and despite all the rigor for precision and technology, she never neglects the loving handling of herself and her own body. BODYART - deepWORK and WARRIOR V are movement concepts for Katharina with which she can identify, and which give her participants and themselves space to breathe deeply, let go and "find inner peace".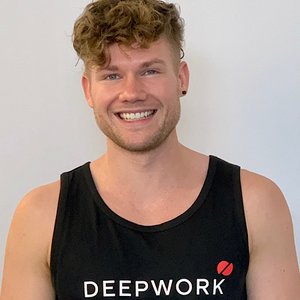 Martin Brümmer
Deutschland
DEEPWORK International Master Trainer
BODYART International Master Trainer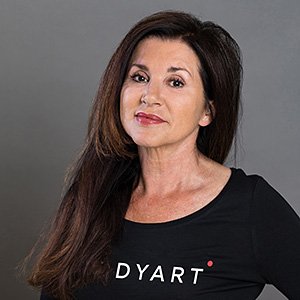 Monika Kilian
Schweiz
BODYART International Master Trainer
Monika Kilian
Nicht nur durch ihre vierjährige Ausbildung an der Ballett-Akademie in Zürich ist Monika Kilian ein wahrer Tanz-Profi. Auch in ihrer Tätigkeit als Choreographin, Ausbilderin und Presenterin im Fitness-Bereich frönt sie ihrer Passion von ganzem Herzen. Ihre zusätzlichen Sonderausbildungen in therapeutischem Rückentraining sowie permanente, begleitende Weiterbildungen auf diesem Fachgebiet machen sie zur Expertin unter den Rückentrainern. Ihr die langjährigen Berufserfahrungen – auch als Ausbilderin von Back Gym-Lehrern – verleihen ihr ein untrügliches Gespür für die Belange sowohl der Teilnehmer als auch der Instruktoren. Ihr großes Einfühlungsvermögen und ihre Herzlichkeit spiegeln sich auch in ihrem ehrenamtlichen Engagement wider: In ihrer knappen Freizeit unterstützt Monika die Vereinigung krebskranker Kinder "Benefiz for Kids".
Sie ist bereits seit vielen Jahren als International Master Trainer im Ausbilderteam der BODYART School tätig. Sie entwickelte und unterrichtet u.a. die Module BODYART Best Age, BODYART Pre- and Postnatal sowie BODYART PRT (Prävention, Reha und Therapie).
Monika Kilian is a true dance professional not only because of her four-year training at the Ballet Academy in Zurich. She also indulges her passion wholeheartedly in her work as a choreographer, instructor and presenter in the fitness sector. Her additional special training in therapeutic back training as well as permanent, accompanying further education in this field make her an expert among back trainers. Her many years of professional experience - also as a trainer of Back Gym instructors - give her an unerring sense for the needs of both participants and instructors. Her great empathy and warmth are also reflected in her voluntary work: in her scarce free time, Monika supports the association of children with cancer "Benefiz for Kids".
She has been an International Master Trainer in the BODYART School's team of instructors for many years. She developed and teaches – among others - the modules BODYART Best Age, BODYART Pre- and Postnatal and BODYART PRT (Prevention, Rehab and Therapy).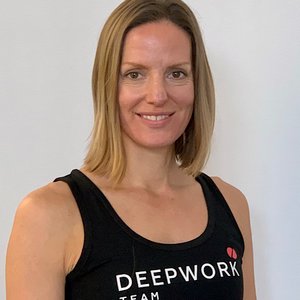 Regina Münstermann
Schweiz
DEEPWORK International Master Trainer
Regina Münstermann
Enthusiasmus, Authentizität und Motivation. Regina ist der Inbegriff von Sportlichkeit und treibt ihre Kund*innen und Schüler*innen nicht nur zu Höchstleistungen an sondern begeistert sie – tiefgündig, beharrlich und humorvoll. Seit 2018 bildet sie DEEPWORK Instruktor*innen für die Schweiz aus.
Die ehemalige Spitzensportlerin Synchronschwimmen fand nach ihrer Aktivzeit und der Geburt von zwei Töchtern (2001 & 2002) zuerst über die «harten» Disziplinen zur Fitnesswelt. Tae Bo, Speedball und Soccacise standen auf dem Plan, bevor sie mit DEEPWORK und BODYART die sanften und nachhaltigen Trainingsmethoden entdeckte. Dank ihrer ganzheitlichen Sicht auf den menschlichen Körper und die funktionellen Zusammenhänge bringt sie Menschen physisch und mental vorwärts. Ihr Personal Training-Package kombiniert sie mit einer speziellen Screening-Technik und schließt mit der Anwendung der K.O.R.E. Therapie den Kreis der holistischen Bewegungslehre. Die einzigartige ganzheitliche Therapie kombiniert die Behandlungsmethoden der westlichen mit der Chinesischen Medizin (CM). Regina ist eine der von Erfinder John Brazier persönlich ausgebildeten K.O.R.E. Specialists in Europa.
Bis im Frühling 2021 unterrichtete sie in der eigens 13 Jahren zuvor gegründeten sweat zone in Bern. Aufgrund der Coronamaßnahmen musste sie das Studio komplett aufgeben und bietet ihre Trainings online und im Freien an. Ab Sommer 2021 verbringt sie ein Sabbatical Jahr in Berlin.
Website und Blog:

Social Media:
https://www.facebook.com/sweatzonebern

Instagram: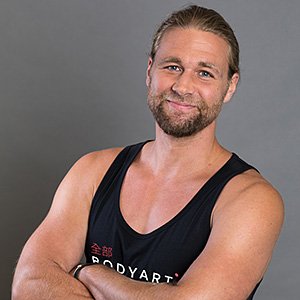 Remo Stefanic
Deutschland
BODYART International Master Trainer
DEEPWORK International Master Trainer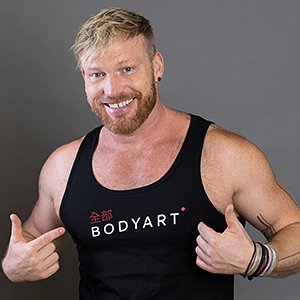 Robert Steinbacher
Schweiz
Founder and Creator BODYART Trainings Concept and deepWORK Concept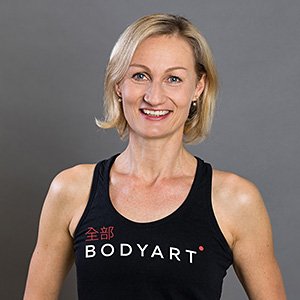 Tanja Drummer
Deutschland
BODYART School Office Team
BODYART School Customer Service
Assistant BODYART Inter. Franchise Department
Management BODYART Shop
Tanja Drummer
Tanja war schon von Kindheit an wissbegierig und immer in Bewegung. Kunstturnen, Schwimmen, Skifahren, Snowboarden u. v. m. prägten neben der Schule ihren Alltag.
Beruflich war ihr Weg anfangs jedoch eher von "sitzender Natur". Nach vielen Jahren Bürotätigkeit in einem großen Konzern in Oberfranken, zog sie mit ihrer Familie, für einen geplanten kurzen Aufenthalt in die Nähe von München, und ist bis heute hier wohnhaft. Nach einem Abschnitt als sportlich aktive Vollzeit-Mama, war Tanja auf der Suche nach einer neuen beruflichen Aufgabe, die im besten Fall ihre Erfahrung im wirtschaftlichen, kommunikativen Arbeitsfeld mit der Leidenschaft zum Sport verbindet.
Nach einer BODYART Probestunde Im Juli 2014 war der begeisterten Sportlerin sehr schnell klar, dass sie ihre Passion gefunden hatte und sie sich als BODYART Instructorin ausbilden lassen wollte.
Seitdem folgten viele weitere BA Module und viele werden noch folgen. Dem sportlichen YIN folgte das berufliche Yang und Tanja startete 2016 im Office Team in Ismaning.
Mit großer Leidenschaft steht sie vor allem im Customer Service, Rede und Antwort für Fragen jeglicher Art rund um das BODYART Training, und hat für all Eure Anliegen ein offenes Ohr.
Tanja was inquisitive from childhood and always on the move. Artistic gymnastics, swimming, skiing, snowboarding u. v. m. shaped their everyday life next to school.
Professionally, however, her path was initially "sedentary". After many years of office work in a large company in Upper Franconia, she moved with her family for a planned short stay near Munich, and still lives here today. After a section as an active full-time mom, Tanja was looking for a new job that would ideally combine her experience in the economic, communicative field with her passion for sport.
After a BODYART trial lesson In July 2014, the enthusiastic athlete quickly realized that she had found her passion and wanted to be trained as a BODYART instructor.
Since then, many more BA modules have followed and many will follow. The sporty YIN was followed by professional yang and Tanja started in 2016 in the office team in Ismaning.
She is passionate about customer service, answering questions for all kinds of BODYART training, and is open to all of your concerns.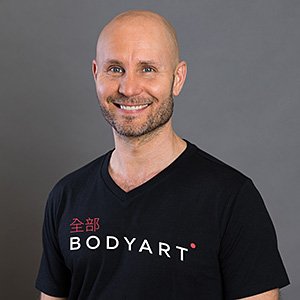 Thomas Berghoff
Deutschland
BODYART Global Master Trainer
Educator of the Health Academy
Thomas Berghoff
"Wer seinen Körper kennt, weiß, wohin er gehen kann."
Seit meiner Kindheit erfahre und studiere ich die verschiedensten Prinzipien in Holistic Training im Zusammenhang mentaler Heilung und entwickle effektive energetische Methoden für einen optimal funktionierenden Menschen.
Das Verstehen des Körpers in Verbindung geistiger Vitalität reizte mich derart, dass ich den Schritt ins Ausland setzte. Auf meinen Reisen durch die Welt sammle ich immer wieder inspirierende und individuell einsetzbare Erfahrungswerte, um die unterschiedliche Art und Herangehensweise des Trainings und der Heilung zu verbinden und auf den körperlich, sowie energetisch geistigen Zustand anzupassen (organic).
Ich habe mich auf eine holistisch organisch energetische Art der Bewegung spezialisiert, welche gleichzeitig als "eigene Behandlung" fungiert. Meine volle Aufmerksamkeit richte ich auf das Ausgleichen muskulärer und organisch energetischen Dysbalancen und reguliere somit bewusst Spannungszustände mit dem Ziel einer authentischen Optimierung des Lebensstils.
Ich betreue Personen und Unternehmen für ein nachhaltiges erfolgreiches Gleichgewicht auf ihrer körperlichen und geistigen Ebene. Als Referent und Ausbilder ist es mir eine große Freude, mein Wissen in der Welt weiterreichen zu dürfen.
Seit 2013 bin ich als Global Master Trainer im Team der BODYART School. Aktuell unterrichte ich die von mir entwickelten Module BODYART Energy, Core Cell Memory sowie gemeinsam mit Janni Giannikakis unseren Workshop BURN-OUT Prävention.
"If you know your body, you know where it can go."
Since my childhood I have been experiencing and studying various principles in Holistic Training in the context of mental healing and developing effective energetic methods for an optimally functioning human being.
Understanding the body in connection with mental vitality appealed to me so much that I took the step to go abroad. On my journeys around the world I keep collecting inspiring and individually applicable experiences to combine the different ways and approaches of training and healing and to adapt them to the physical as well as energetic mental state (organic).
I have specialised in a holistic organic energetic way of movement, which at the same time functions as a "treatment in its own right". I focus my full attention on balancing muscular and organic energetic imbalances and thus consciously regulate states of tension with the aim of an authentic optimisation of lifestyle.
I coach individuals and companies for a sustainable successful balance on their physical and mental level. As a speaker and trainer, it is a great pleasure for me to be able to pass on my knowledge to the world.
I have been a Global Master Trainer in the BODYART School team since 2013. I currently teach the BODYART Energy and Core Cell Memory modules that I developed, as well as our BURN-OUT Prevention workshop together with Janni Giannikakis.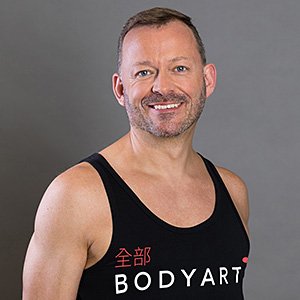 Torsten Stölting
Deutschland
BODYART School Office Team
Manager BODYART Finances and Accounting Department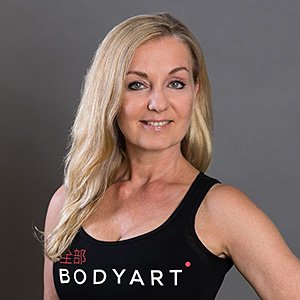 Ulrike Mangold
Deutschland
BODYART Global Master Trainer
Educator of the Health Academy
Ulrike Mangold
Ulli Mangold ist gebürtige Deutsche lebt seit 2000 in Brüssel.
Sie ist seit 1998 mit BODYART verbunden und war bereits während der Entstehungsgeschichte von BODYART dabei.
Ihr Interesse an ganzkörperlicher Arbeit stammt aus ihrer Verbindung zum Tanz.
Ulli hat klassisches Ballett und Modern Dance in London studiert und ist diplomierte Tanzpädagogin. Sie war Ballettlehrerin an der Tanzhochschule in Alicante/Spanien und später "Technical Coach" einer bekannten Schule für Rhythmische Sportgymnastik in Alicante/Spanien, in der Kinder und Jugendliche für nationale und internationale Wettkämpfe vorbereitet werden.
Bereits schon in der Zeit, als sie selbst noch aktiv tanzte bildete sie sich stets auf dem Gebiet der leistungsoptimierenden Trainingsmethoden weiter.
Mit BODYART hatte sie die Trainingsmethode gefunden, die den Körper und den Geist als Einheit, sowohl für den Alltag als auch auf Leistungssportarten vorbereitet.
Für die BODYART School hat sie die Fortbildung BODYART Kids und gemeinsam mit Dr. Fabian Allmacher die Fortbildung BODYART Medical and Recovery entwickelt, welches sie neben anderen Modulen aktuell auch unterrichtet. Ulli ist auch Yogalehrerin (500 hrs Downunder Yoga / Boston), Life Coach und studiert derzeit Ayurveda an der Boston Ayurveda School.
Ulli Mangold is a native German living in Brussels since 2000.
She has been associated with BODYART since 1998 and was present during the genesis of BODYART. Her interest in whole body work stems from her connection to dance.
Ulli studied classical ballet and modern dance in London and is a qualified dance teacher. She was a ballet teacher at the dance academy in Alicante/Spain and later "Technical Coach" of a well-known school for rhythmic gymnastics in Alicante/Spain, where children and young people are prepared for national and international competitions.
Already in the time when she was still dancing actively herself, she constantly educated herself in the field of performance-optimising training methods.
With BODYART, she had found the training method that prepares the body and mind as a unit, both for everyday life and for competitive sports.
For the BODYART School, she developed the advanced training BODYART Kids and, together with Dr. Fabian Allmacher, the advanced training BODYART Medical and Recovery, which she currently also teaches, along with other advanced training courses. Ulli is also a yoga teacher (500 hrs Downunder Yoga / Boston), life coach and is currently studying Ayurveda at the Boston Ayurveda School.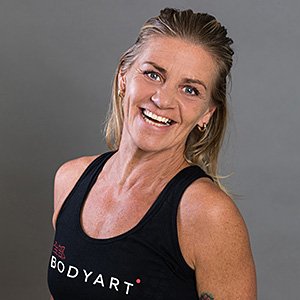 Virginia Winsemann
Deutschland
BODYART & DEEPWORK Global Master Trainer
Manager BODYART School International Franchise Department
Manager DEEPWORK Academy and Department
Virginia Winsemann
Virginia Winsemann ist am 28. August 1969 geboren und in Norddeutschland aufgewachsen.
Bewegung und Sport begleiteten Virginia seit ihrer frühen Kindheit (Schwimmen, Turnen, Ballett, Reiten, JuJutsu usw.). Bis zum Abitur prägte sie der Schulleistungssport und erfüllte ihren Tagesablauf. Nach ihrem Abitur lebte Virginia für eineinhalb Jahre im wunderschönen Houston (Texas/ USA). In dieser Zeit begann die "neue" Fitnessbranche -> Aerobic und Step, welche Virginia dort in den Vereinigten Staaten fast täglich genoss und dieses eine Leidenschaft in ihr auslöste. Damals konnte niemand ahnen, dass diese "Welle" ein fester Bestandteil in unserer Gesellschaft sein würde.
Die gelernte Restaurant- & Hotelkauffrau zog 1996 in ihre Lieblingsstadt Berlin, wo sie für renommierte Hotels im Personalmanagement tätig war. Doch der Gedanke, Sport zu ihrem Beruf zu machen, lies sie nie los, bis sie dann 1999 ihren Businessjob aufgab.
Ausbildungen im Group Fitness (Aerobic- & Step B, A und Master Trainer, Aqua Fitness) legten die Grundlage für ihre Weiterentwicklung. Zunächst als Referentin im Aqua Fitness Bereich. Nach ein paar Jahren der Selbständigkeit kehrte Virginia (2003 bis 2007) zurück ins Management, aber in der Fitnessbranche. Auch diese Zeit war ein großer Bestandteil ihrer Entwicklung, in welcher Virginia auch BODYART kennenlernte. Weitere Aus- und Fortbildungen folgten (Pilates, Iron System, Flexi Bar, usw.). Auf einer Convention hat sie sich in einer Stunde mit Robert und seinem Team in BODYART "schockverliebt" und dann die BODYART Level 1 Ausbildung absolviert. Diese Ausbildung veränderte VIELES in Virginias Leben.
Als Robert erfuhr, dass Virginia nicht mehr fest im Management angestellt war, rief er sie an. Robert fragte sie, ob sie sich vorstellen könnte als BODYART Ausbilderin tätig zu sein… JAAAAAA!!! Seitdem liebt & lebt Virginia ihre Referententätigkeiten und Konzeptoptimierungen für BODYART. Seit 2007 gehört Virginia nun zum Global Team von Robert Steinbacher, ist weltweit als Global Master Trainerin für die Marke BODYART auf Reisen und leistet stehts viel Beitrag bei der Weiterentwicklung des Konzepts. Des Weiteren ist Virginia seit 2010 ein fester Bestandteil im Entwicklerteam des deepWORK Konzept, wo sie bis heute ihr Knowhow und ihre Erfahrungen in dessen Weiterentwicklung einbringt. 2019 kam der nächste große Schritt, als sie Teilhaberin der BODYART School International GmbH wurde und das Management für alle Franchise Partner übernommen hat.
Aber jeder Coach braucht auch einen Coach! In diesem Sinne geht Virginia ihren Weg der Persönlichkeitsentwicklung stetig weiter und besucht regelmäßig Fortbildungen.
Virginias Ausbildungstätigkeiten, Coaching und Stunden zeichnen sich durch Leidenschaft, Struktur, Energie und Ruhe aus.
Virginia: "Ich habe keinen Beruf - Ich habe eine Berufung" =
DO what you
LOVE
what you DO🥰
Virginia Winsemann was born on August 28, 1969 and grew up in northern Germany.
Virginia has been involved in exercise and sport since her early childhood (swimming, gymnastics, ballet, horse riding, JuJutsu, etc.). Up until she graduated from high school, school sport was a huge part of her daily routine and daily fulfillment. After graduating from high school, Virginia spent one and a half years living in beautiful Houston (Texas / USA). During that time, the "new" fitness industry was born -> aerobics and step, which Virginia enjoyed almost daily in the United States and which ultimately triggered a longstanding passion for these movement concepts. At that time nobody could have guessed that this "wave" would become an integral part of our society.
In 1996, as a trained restaurant and hotel manager Virginia moved to her favorite city of Berlin, where she worked for renowned hotels in personnel management. But she never let go of her dream to work in sports and in 1999 she gave up her business career to train as a Group Fitness Trainer (Aerobics & Step B, A and Master Trainer, Aqua Fitness) which laid the foundation for her further development. Initially that was as a spokesperson in the aqua fitness area. After a few years of self-employment (2003 to 2007), Virginia returned to management, but within the fitness industry. This was when Virginia first discovered and got to know BODYART. Further training courses followed (Pilates, Iron System, Flexi Bar, etc.). But it was at a Convention where she attended a BODYART class with Robert and his team which was the point at which she completely "fell in love" with the BODYART concept and subsequently completed the BODYART Level 1 training. This education was a big turning point in Virginia's life!
When Robert found out that Virginia was no longer in management, he called her and asked her if she could imagine working as a BODYART trainer… YES was the easy answer to that!!! Since then Virginia has loved & lived teaching BODYART and developing the concept. Virginia has been part of Robert Steinbacher's global team since 2007 and travels worldwide as a Global Master Trainer and advocate for the BODYART brand. Furthermore, since 2010, Virginia has been an integral part of the deepWORK concept development team, where she continues to contribute her know-how and experience in its ongoing development. The next big step came in 2019 when she became a partner of BODYART School International GmbH and took over the management of the BODYART International Franchise Partners.
But every coach also needs a coach! With this in mind, Virginia continues her path of personal development and regularly attends advanced training courses.
Virginia's training activities, coaching and classes are characterized by passion, structure, energy and calm.
Virginia: "I have no job - I have a calling"
DO what you
LOVE
what you DO 🥰