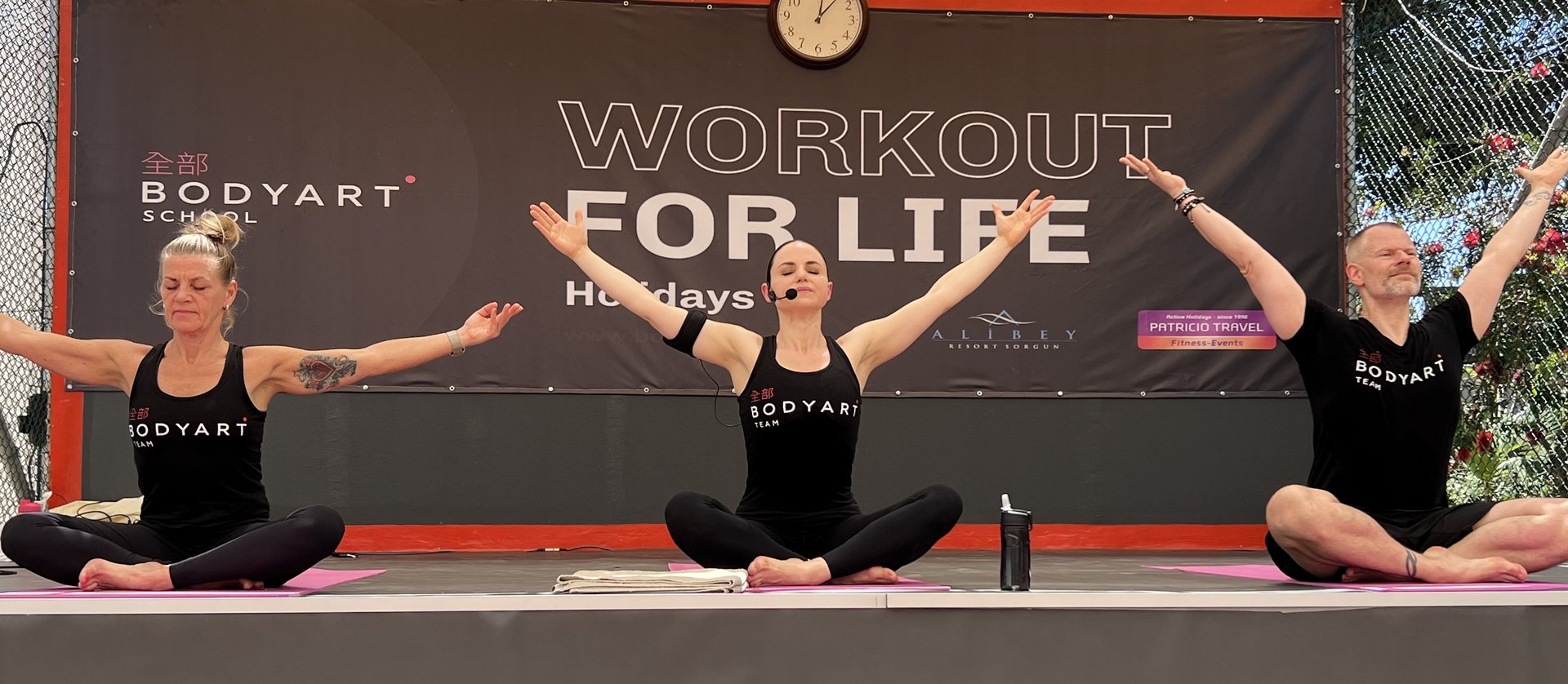 WORKOUT FOR LIFE Holidays at the beautiful Turkish Riviera 2023
Sun and beach meets WORKOUT FOR LIFE!
WORKOUT FOR LIFE Holidays - rejuvenate body, mind and soul
Our location is the stunning Ali Bey Resort, Sorgun in the beautiful setting of the Turkish Riviera, surrounded by mountains and just a short step away from magnificent beaches and the warm turquoise sea. A dream holiday to rejuvenate mind and body with an active week that combines exercise, fun, music, relaxation and plenty of guaranteed sun.
Our WORKOUT FOR LIFE philosophy expresses the quintessence of our holistic training concepts – BODYART and DEEPWORK. WORKOUT as a unity of body, mind and soul. Agility, flexibility, strength and cardio exercises combined with breathing coordination to promote physical and mental relaxation and a deep sense of well-being FOR LIFE. A holistic training approach that is deeply rooted in the 5 Elements of Chinese Medicine to help you find inner balance - Yin and Yang - through the powerful combination of movement, breathing and relaxation. The chance to discover yourself anew, experience a deeper awareness of your body and free your mind to encourage that all important regeneration and relaxation process.
Our course program coming
Our varied and balanced course program led by our International Master and Elite Trainer team has been carefully designed so that each day you find that perfect balance of more strenuous activity and letting off steam in the morning, mobilising your body, breathing consciously and balancing in the afternoon and then bringing the day to a close with time for reflection and deep relaxation. A feel good program with BODYART, DEEPWORK and special classes from the Health Academy.
In addition to our varied program, there is plenty of time to enjoy this outstanding resort – take a dip in one of the beautiful pools including the therapy pool area, pamper yourself at the spa, enjoy time at the beach and enjoy delicious gourmet food with local specialities and dishes from around the world.
Our WORKOUT FOR LIFE Holiday experience is a partnership of the BODYART School, our travel experts Patricio Travel and the Ali Bey Resorts team.
We look forward to welcoming you in paradise!
More details to our program coming soon (click HERE 🏖)
Booking is via our travel partner Patricio Travel:
Patricio Travel or info@patriciotravel.com
Date
14.05.2023 - 21.05.2023