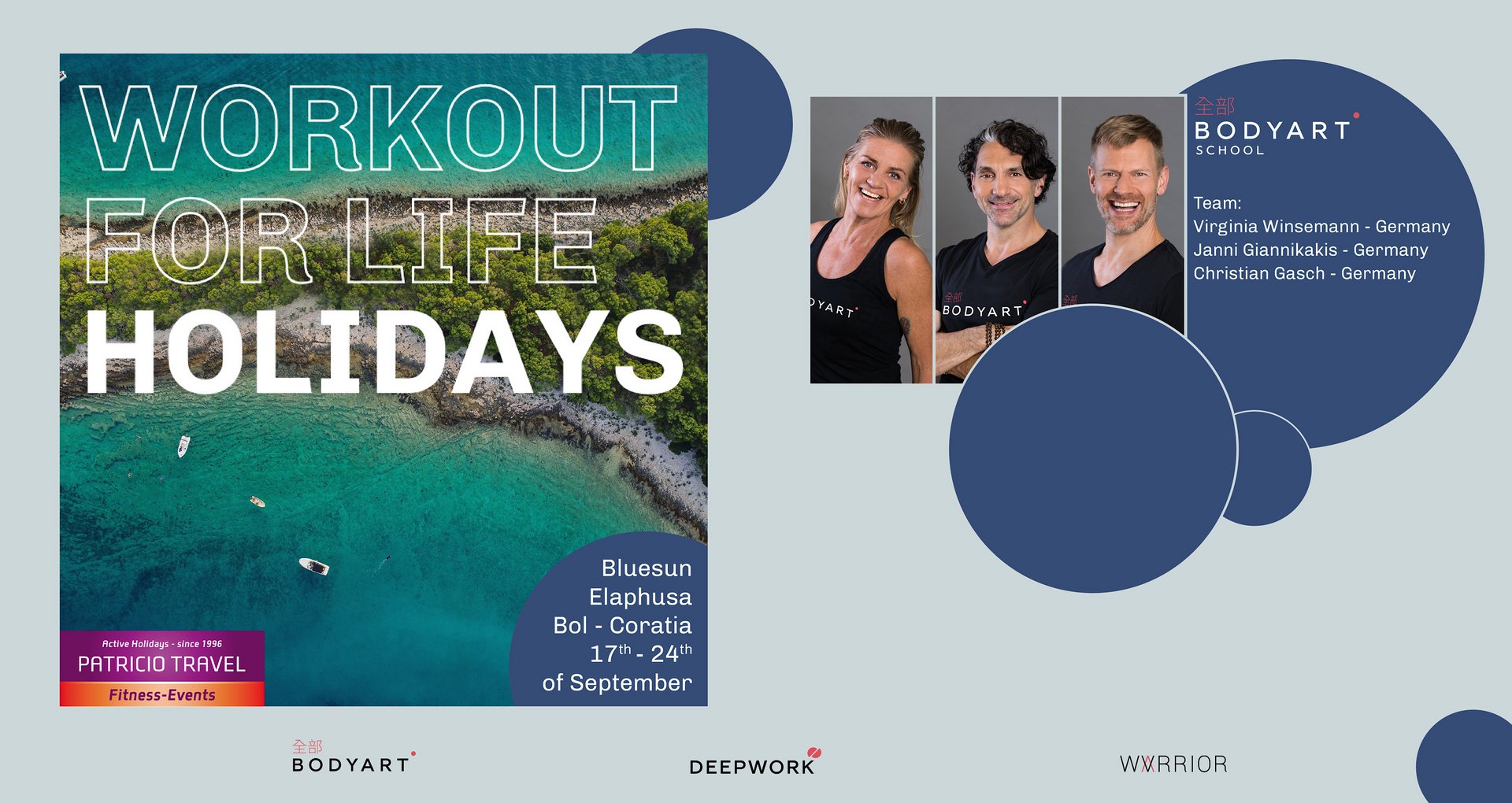 WORKOUT FOR LIFE Holidays on the island of Brac
WORKOUT FOR LIFE HOLIDAY – Brac - rejuvenate body, mind and soul
Retreat from the demands of daily life and arrive on the magnificent island of Brac, home to one of the Adriatic's most beautiful beaches, the golden horn of Zlatni Rat to enjoy an active week and feel re-energised.
Guided by our Master Trainer team, Virginia Winsemann, Christian Gasch and Janni Giannikakis, enjoy a balanced programme of holistic daily workouts combining flexibility, strength and cardio exercise with breathing and meditation to help you reconnect to yourself, re-balance your energy and feel a deep sense of well-being.
Our location is the Bluesun Hotel Elaphusa, nestled amongst fragrant pines on the shoreline of the turquoise waters of the Adriatic Sea and just a short distance from the pretty fishing village Bol. In addition to the outdoor and indoor pools, the Hotel boasts a large Thalasso Wellness Centre with extensive opportunities to enjoy wellness treatments, including hydro-massage whirlpools, massage, beauty therapy and more.
Our event program for the week is carefully prepared so that each day we find a focus and tune in at a deeper level to our body and mind. We will balance more strenuous activity and letting off steam in the morning with mobilisation of the body, conscious breathing and balancing in the afternoon. Each day we close with reflection and relaxation time. A feel good program of BODYART, DEEPWORK, special classes from the Health Academy and some yoga and Pilates too. There is plenty of time to take a dip in the pool or warm sea or stroll, enjoy a walk along the beach or visit the pretty nearby fishing village of Bol.
A WORKOUT FOR LIFE holiday is an opportunity to discover yourself anew, experience a deeper awareness of your body, have fun under the warm Mediterranean sun and free your mind to encourage regeneration and relaxation.
WORKOUT FOR LIFE holiday Brac is a cooperation of the BODYART School and our expert travel partner Patricio Travel and the Bluesun Hotel Elaphusa team.
Patricio Travel are ready to help you to plan your trip!
https://www.patricio-fitness-events.com/de/detail/-workout-for-life-holidays-bol/
We look forward to welcoming you to paradise!
Location
Bluesun Hotel Elaphusa
Put Zlatnog Rata 46
21420 Bol

Date
17.09.2022 - 24.09.2022